The High-Resolution Rapid Refresh (HRRR)
Rapid Refresh
.
HRRR implementations at NCEP
HRRRv1 - 30 Sept 2014
HRRRv2 - 23 Aug 2016
HRRRv3 - 12 July 2018
HRRRv4 - planned for spring 2020
HRRR Colorado Labs Award video - a 2-minute layperson-level description on the HRRR from late 2015 and why it is important. (October 2015)
HRRRv3/RAPv4 description and testing - June 2017 .
Key features:
improved mesoscale environment for convective storms and clouds.
Less high precip bias for warm-season and cold-season precipitation
Improved 2m temps in winter including over snow cover.
Extension to 36h every 6h.
Addition of Alaska domain for HRRR
HRRR Ensemble (HRRRE) prediction - documentation as of May 2018
The operational version of the HRRR (currently HRRRv3) was implemented at NCEP 12 July 2018.
The experimental HRRR is run by NOAA/ESRL/GSD as a real-time demonstration of advanced versions of the HRRR, ahead of the NCEP operational version. Experimental versions of the HRRR started to run in 2010 and from October 2014 onward, continuing to run more advanced versions than the NCEP operational version but with slightly lower reliability. Usually yearly upgrades are made at ESRL.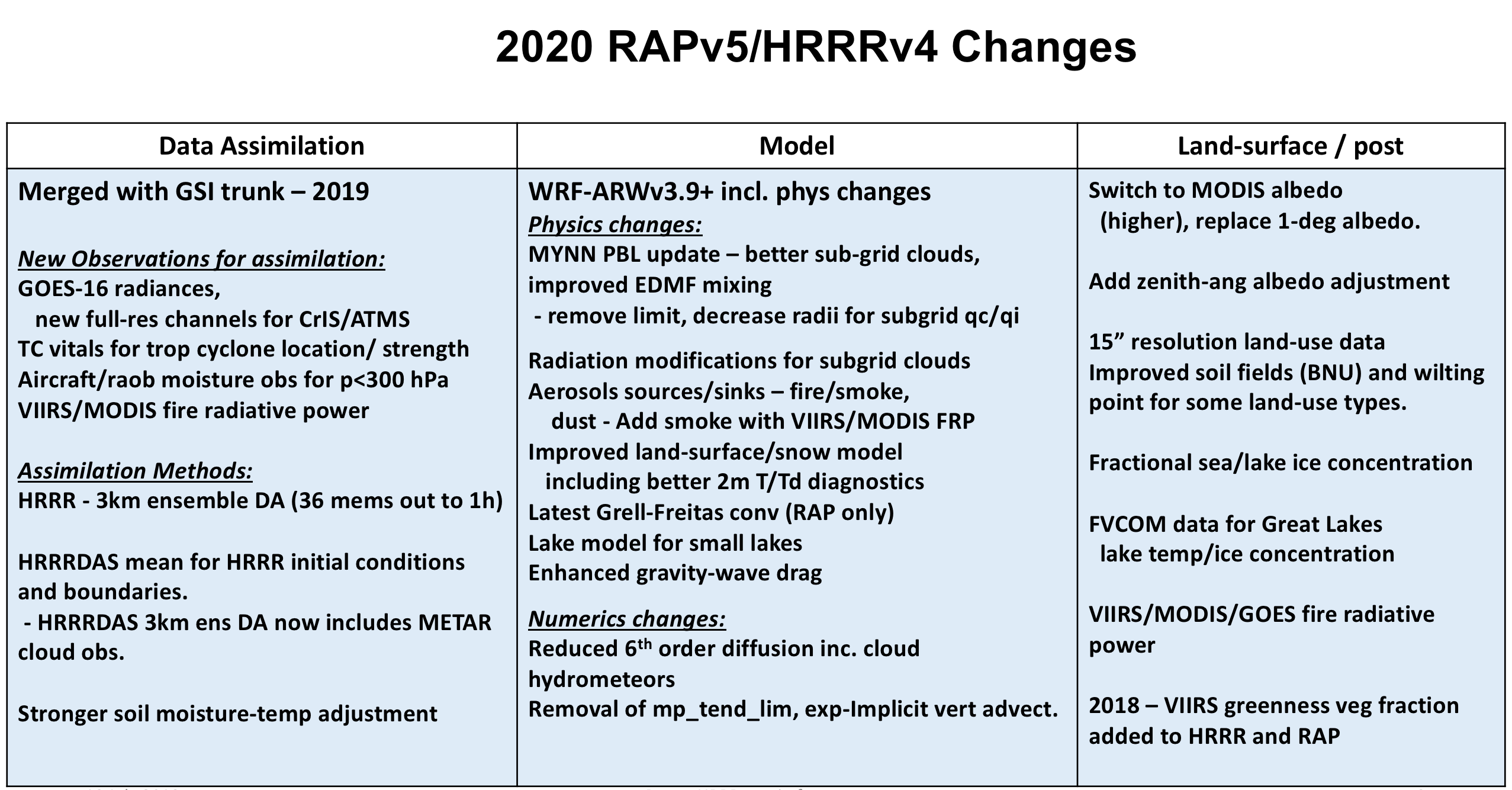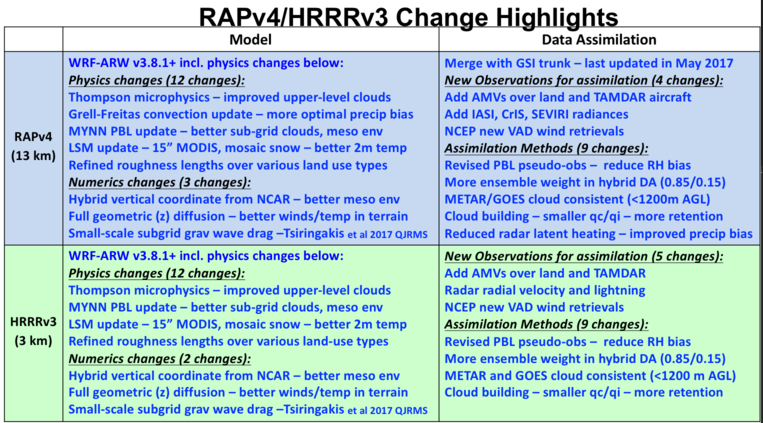 HRRRv2 physics description in Benjamin et al. 2016, A North American Hourly Assimilation and Model Forecast Cycle: The Rapid Refresh. Mon. Wea. Rev., 144, 1669-1694.
-
NOAA NOMADS archive
News items
spring 2019 - Experimental HRRRX now running with configuration for HRRRv4 at NCEP in 2020.
12 July 2018 - HRRRv3 implemented at NCEP/NWS/NOAA.
19 Aug 2017 - Eclipse-ready experimental HRRR/RAP - The ESRL/GSD experimental HRRR and RAP included new code to include the effect on sun radiation from the 21 Aug 2017 eclipse. Eclipse code added to RAPv4/HRRRv3 package. More information is available at eclipse2017.noaa.gov.
23 Aug 2016 - HRRRv2 implementation at NCEP/NWS/NOAA, replacing previous HRRRv1.